I woke up yesterday morning, wandered into my studio, GASPED, shook my head, swung myself around, and made a bee-line back upstairs to the kitchen to make a steaming hot strong carafe of Yerba Mate. "I just can't work in there" I told sPoT!, the dog. It's time to take serious action and reorganize that awful disgusting mess. Empty boxes, dog toys, paper bits, wadded up tape, design books, shoes and socks, bubble wrap and styrofoam peanuts, tools, CDs, beads, old books and maps, moldy tea mugs, and dirty beer glasses, photos, paint, drill bits, chocolate wrappers, colored pencils, piles of credit card junk mail, exacto knives, Sharpie pens, and about 20 pairs of scissors (and it never seems that I can't find a pair) were strewn everywhere. Not to mention that damn exercise ball that always gets in my way. "Hey! There's my bra!!!"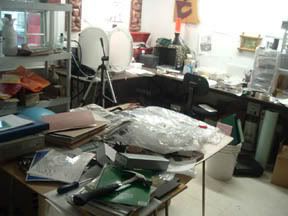 It's day 2 and Oh, what a feeling it is to sit in my studio again! Luckily, I found an old usable small drafting table in the garbage pile behind the big town church. I think that was the only time I've been dumpster diving and felt like I was committing a sin. But, I always wanted a tilting table to draw on.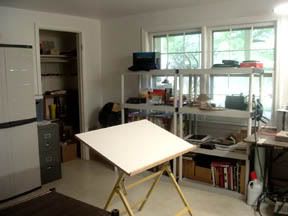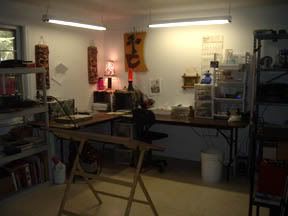 Another highlight was the moment I shredded that last page of old documents from my last job and that felt terrific....ah, closure!! Was it worth 3 hours of shredding?? YES IT WAS! Why was I keeping all that stuff? Like I was really going to need that February timesheet from 2003, or that approved travel voucher from 2004! It's all gone! And now I have closet space for my creations!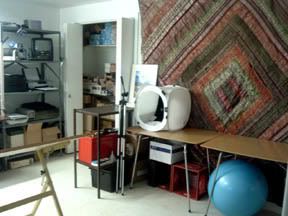 sPot! wasn't amused at all with the whole situation as I neglected his walk, or shall I say his sniff and poop at the park.